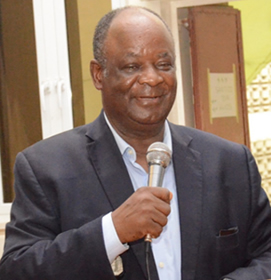 David Olufemi OLALEYE, DVM, Ph.D, FAAS was a Professor of Virology at the University of Ibadan and Consultant Virologist at the University College Hospital, Ibadan. He was born on July 21, 1954 in Ogbomosho, Oyo State, Nigeria to the family of Mr James and Mrs Esther Olaleye, He joined the service of the University of Ibadan immediately after his NYSC in 1982 as Resident Veterinary Officer (Pathology) and later was appointed Lecturer I in the Department of Virology, College of Medicine of same University in 1986 where he rose through the ranks of Senior Lecturer (1989) to Professor of Virology in 1995. Until his death on July 27 2021, Professor Olaleye was Director, WHO National Influenza Centre, University College Hospital, Director, HIV Laboratory, Department of Virology, UCH; Adjunct Professor, Northwestern University, Chicago, Illinois, USA and a Member of the Oyo State COVID-19 Task Force.
Professor David Olaleye graduated as Doctor of Veterinary Medicine (D. V. M.) in 1981, Masters of Veterinary Science (Diagnostic Pathology) in 1985 and Doctor of Philosophy (Ph.D.) Virology in1991. He also had Certificate on Radiation Safety in the Laboratory, University of Southern California, Los Angeles, USA; Certificate on Principles of Epidemiology, Centers for Disease Control Atlanta, USA; Certificate on Communicable Diseases Control, Centers for Disease Control, Atlantic, USA; Certificate on Working Safely with HIV and other Blood Borne Pathogens in the Laboratory, National Institutes of Health, Bethesda; Certificate on Laboratory Safety at the National Institutes of Health, NIH, Bethesda, USA and Certificate in Basic Course in Bioethics, Harvard School of Public Health, Boston, USA. As the Dean, Faculty of Basic Medical Sciences, College of Medicine, University of Ibadan, Ibadan, Nigeria (2006 to 2010) and 4-time Head of Department, Department of Virology, College of Medicine, University of Ibadan, Ibadan, Nigeria (1994 to 1996, 1998 to 2001, 2004 to 2006, 2014 to 2018), he had over 20 years of management experience at the university level.
He was Principal Investigator of many research grants including the NIH funded University of Ibadan MEPI Junior Faculty Training Research Training Program (D43TW010140), Medical Education Partnership Initiative Program (MEPIN) and the WHO multinational project on epidemiology of respiratory syncytial virus among under-five children in Nigeria (1998-2000). In addition, Prof Olaleye was subcontract PI of a Harvard Bill and Melinda Gates Foundation grant to work on AIDS prevention initiatives in Nigeria and Co-PI of the UCH Harvard PEPFAR program in Nigeria. He was Mentor and member of training committee of the Northwestern University AIDS International Training Research Program (AITRP) in Nigeria. Until his death, he was the Principal investigator of one of the 6 TETFund sponsored special project on COVID-19 research (2020-2022) in Nigeria as well as the STRIPEN-HIV project (April 2021-September 2021) supported by HRSA through UCSF and AFREhealth. He was involved in the implementation of the University of Ibadan MacArthur Foundation-funded capacity development grant and collaborated on several research activities internationally and in Nigeria.
Professor Olaleye was a Fellow of the Fogarty International Fellowship Program, at the University of California, Los Angeles, a DAAD and AvH Fellow (Germany), a Research Fellow at NIH and had several short-term research visits to the United States and Germany. As a Lecturer, he taught basic and medical virology at various levels at the University of Ibadan including bachelor's level courses in Microbiology, as well as in MBBS/BDS, M.Sc., Residency and Ph.D. programs. He successfully supervised several M.Sc. dissertations and 20 Ph.D. theses in Virology. In the last ten years, his effort was focused on development of research capacity among junior faculty at the Universities in Nigeria.
He was a fellow of the African Academy of Science (FAAS) and a member of the America Science Honors Society (Sigma Xi) as well as member of many national and international scientific and professional bodies. He mentored several people many of whom are at the peak of their career including 6 full Professors and 4 Directors of institutes.
Professor Olaleye was a great mentor, teacher, brilliant researcher and a forthright person and an academic giant. It is very sad that he had to transit at this time, when the world needs him most. Professor David Olaleye will be sorely missed by all who ever came in contact with him because he was a jolly good fellow, there was never a dull moment with him.
Professor Olaleye is survived by his beloved wife, children and grandchildren as well as many academic children. May his gentle soul rest in perfect peace. Amen!