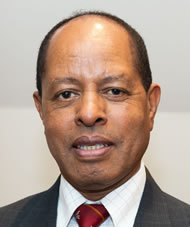 Dr. Miliard Derbew is a professor of Pediatrics surgery at the College of Health Sciences, Addis Ababa University, and adjunct professor in University Toronto Surgical Department and Wilson Center. He is the principal investigator for Medical Education Partnership Initiative Junior Faculty project for Ethiopia, MEPI-JF and Health Education Partnership initiative HEPI. He was the principal investigator of Medical Education Partnership (MEPI) project, a five-years (2010 – 2015) project, which was a consortium of four medical schools in Ethiopia and five universities in the United States, focused on building institutional capacity.
He was the president of College of Surgeons of East Central and Southern Africa (COSECSA) from 2015 – 2017.
Derbew has served as Chief Executive Director (with a rank of Vice President) in the CHS, Addis Ababa University (2010- 2011) and was the Dean of the School of Medicine from 2007- 2010. He has also served as President of the Surgical Society of Ethiopia and a Vice president of COSECSA.
Derbew has published more than 70 peer reviewed scientific articles on reputable journals and chapter in 3 books and co-authored one book. Presented more than 80 scientific presentations on different international conferences.
He graduated from medical school and specialized in surgery from the School of Medicine, Addis Ababa University and did his fellowship in pediatrics surgery at Tel Aviv University and University of Toronto SickKids hospital. He is a founding fellow of the COSECSA and fellow of the Royal College of Surgeons of England, and Fellow of American College of Surgeons.